"The Montessori method is a system of education that seeks to nurture and develop the child's natural interest and activity."
What is Montessori Education?
The Montessori method is a system of education that seeks to nurture and develop the child's natural interest and activity to unlock their potential. It is a child centred approach to education which has been implemented internationally for more than a century and has been identified as one of the most successful, tried and tested holistic teaching methods used today.
Children are taught at their own pace and supported to actualise their potential through attentive observation by a skilled Montessori teacher and the use of a carefully prepared environment. A proficient Montessori teacher understands and responds to the individual developmental needs of the children in order to engage them fully in their learning. High levels of engagement allow the children to attain the deepest levels of concentration and eventually become independent lifelong learners.
This comprehensive approach not only promotes academic excellence, but also takes a holistic approach to developing the whole child; spiritually, emotionally, physically and socially. The Montessori method also supports the development of patience, self-control, independence, critical and lateral thinking, self-motivation, integrity and most importantly, responsibility for themselves and for all living things. There are many examples which demonstrate how this is achieved, one subtle example is the presence of mixed age groups in each class which naturally draws out the qualities of respect, mentoring, compassion and patience.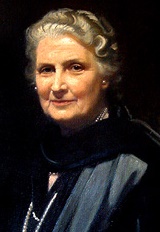 Maria Montessori believed that the role of the teacher was to attentively observe the child and work with what God manifested within them. The true purpose of education is to free the mind so that the intellect can be used for what it was created; to understand the universe and connect with it's Sustainer. This form of education draws out the intrinsic genius within and allows the child to discover their purpose whilst nurturing their natural desire to serve their Creator through the service of humanity.
A SYNERGISTIC MODEL:
PROPHETIC AND MONTESSORI EDUCATION
The principles of the Montessori method are Prophetic in spirit and so align in a complementary and synergistic manner to create a unique educational model. This unique and complementary blend of both models embodies the spirit of Prophecy and is an education that is alive with our ultimate purpose and connection. In this model of education, we have the opportunity to raise a generation who truly follow the example of our beloved Prophet (peace and blessings be upon him) opening the possibility of producing leaders, great thinkers, entrepreneurs, inventors, people engaged in charity and public benefit and above all, excellent Muslims who strive to please Allah. Our research shows that even on a global level this form of educational model is rare.