Montessori for the Elementary Child – Jogja
Montessori for the Elementary Child – Jogja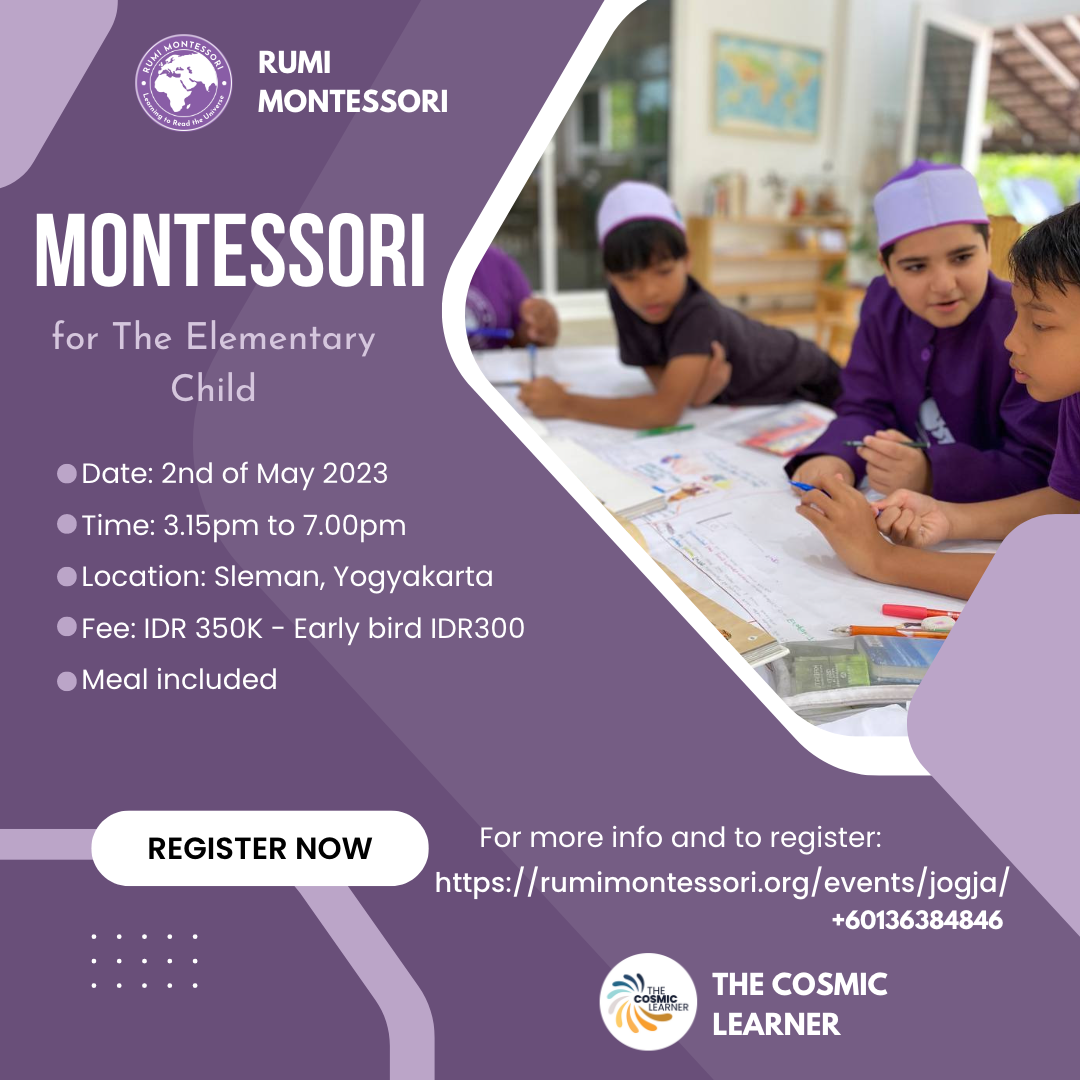 Event Location:
Sleman, Yogyakarta
Would you like to better understand the needs of your elementary children? Are you wondering what Montessori education has to offer the elementary child?
What happens in a Montessori elementary class is magical. Montessori encourages children to become active independent learners, eager to explore the universe. Through the use of intelligently designed hands on materials and a detailed holistic curriculum, children are driven to unlock their maximum potential. Not only is each student provided with a rich extensive environment to learn from, but the curriculum is tailored to meet the needs of each individual child allowing their unique talents to shine through.
In this session, we aim to give you an insight into the magic of the Montessori for the elementary child. We will discuss the needs of the elementary child and what a Montessori education offers to them.
Instructor
Please note this sessions is face to face only, location is Sleman Jogja. The exact location will be shared after registration
Nusaibah Macadam
Nusaibah is a former Montessori child with more than 20 years of experience in Montessori education. She is Montessori trained at the 0-3, 3-6, 6-12 and 12-18 levels. Nusaibah holds a Masters Degree in Montessori education and works as a Montessori trainer.  She is the founder of Rumi Montessori, one of the first authentic Montessori schools in Malaysia for children aged 0-12.  In addition to running her school, Nusaibah provides a variety of Montessori training courses and consultancy for Montessori teachers, schools and home educators.   FB @thelearningark @rumimontessori and IG @rumi_montessori.
Sorry, this event is expired and no longer available.